BLUFFVIEW REAL ESTATE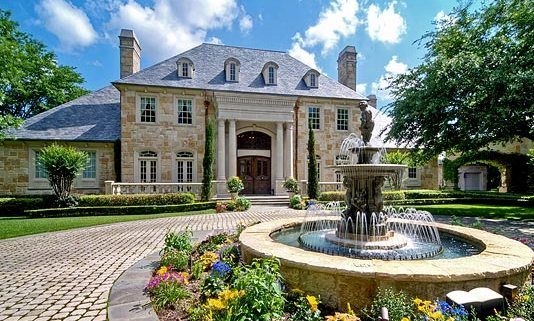 Bluffview is an upscale neighborhood in north Dallas with a population of 4,375. It is bounded by Northwest Highway (Loop 12) and the Preston Hollow neighborhood on the north, Inwood Road and the Devonshire neighborhood on the east, Lovers Lane and the Elm Thicket/North Park neighborhood on the south, and Midway Road, Bluebonnett Road, Bluff View Blvd., and the Shorecrest and Cochran's Chapel neighborhoods on the west. Bluffview is so named for its relatively hilly topography—it lies along cliffs overlooking Bachman Branch and its tributaries. Some of the cliffs the neighborhood is built on rise 50 feet (15 m) over the water below. This community dates back to 1933 and has continued to develop over the years.
Living in Bluffview offers residents a suburban feel and most residents own their homes. In Bluffview there are a lot of bars, restaurants, and parks. Many families and young professionals live in Bluffview.
​
This small neighborhood is sandwiched between Park Cities & Preston Hollow.
​
Home to famous names like musician Don Henley and former U.S. Senator Kay Bailey Hutchison, residents are drawn to the natural beauty of a community surprisingly close to a busy airport like Love Field.
​
​
​
Median Home Value in Bluffview
​
$699,254
​
​
Bluffview Zip Codes
​
75209
​
​
Real estate and property prices in Bluffview (2019)
Bluffview has earned a reputation for having some of the expensive property prices in the Dallas area.
​
Average market price of a home: $841,938
Median market price of a home: $662,000
Average price per sq. ft: $295
Number of homes sold per year: 350
Bluffview Schools - Dallas ISD
​
Bluffview residents are served by Dallas ISD. Please click on the following links to learn more about the school district.
​
Bluffview Private Schools
​
Nearby private schools include Good Shepherd Episcopal School (PreK-8), St. Mark's School of Texas (1-12), The Hockaday School (PreK-12, Girls), Greenhill School (PreK-12), The Episcopal School of Dallas (PreK-12), Jesuit College Preparatory School of Dallas (9-12, Boys), The Lamplighter School (PreK-4), Ursuline Academy of Dallas, and Christ the King Catholic School (K-8).
Bluffview Real Estate & Bluffview Relocation FAQs
​
Each home sale and purchase in Bluffview, Texas is unique: Some homes sell without incident, some buyers search for ages for a property that fits their family. Real estate transactions can be complicated for both first-time buyers and seasoned investors. If you are relocating to Bluffview, Texas, partnering with a top Bluffview Realtor like Nitin is the key to a smooth experience. With sophisticated negotiation skills and professional discretion, Nitin will expertly guide you through the sale or purchase of your luxury home in Bluffview dynamic real estate markets if you are relocating to Bluffview.
​
Q:I'm relocating to Bluffview, Texas. How can Nitin help me with this transition?
Nitin specializes in Bluffview relocation services such as Bluffview neighborhood comparisons, school district information and cost-of-living market analyses. He'll also help clients relocating to Bluffview – from any part of the world – hire an agent to sell their current home. He is an expert on luxury living in the Dallas metro with leads on recreational and entertainment options in various neighborhoods, as well as professional services, including medical and legal providers. You can rely on Nitin to handle your transition and make it as stress-free as possible.
Q: Is there any difference between a Bluffview "relocation specialist" and any other realtor in Bluffview?
The "seasoned professionals" or Bluffview relocation specialists are few and far between. To help you better find someone look for the following, and ask these questions:
1) What is their background? What kind of real estate designations and training do they have?
2) Do they have 5 star reviews on public websites such as Zillow.com and Google.com? What do their clients say about them?
3) What specifics do they know about the Bluffview market? Do they have the ability to run reports on the fly about Bluffview and the Dallas School District Public Schools or top private schools in Bluffview?
4) Do they provide tools like Dallas Neighborhood Finder?
5) Do they understand home construction tools and techniques if you are looking for a new construction home?
6) What continuing education have they completed beyond the required yearly classes?
7) Is their website custom built, specific to Bluffview area, or a cookie cutter version from their broker? Do they provide Bluffview Relocation Resources on their website?
​
8) When are they available? How do they communicate?
If you ask question #'s 5 & 6, you will quickly identify those agents in the top 3% of the business who will be able to help you most effectively
​
​
Q: I'm an international buyer relocating to Bluffview– can Nitin help me find and purchase a new home or investment property in Bluffview?
Nitin is a Bluffview relocation specialist. Nitin assists his clients with the intricacies of an international move or purchase, acting as their single point of contact for all stages of the sale. He'll stay in constant communication with you to understand your unique needs in a luxury home in Bluffview area, provide school and neighborhood profiles, organize necessary bank and government documents, offer move-in support and coordinate with other area professionals as needed to ensure a world-class experience.
​
​
​
​
​
​
​
​
​
​
​
​
​
​
​
​
​
​
​
Q:I'm considering selling my Bluffview home – can Nitin help me find out what it's worth?
As a real estate professional with extensive experience in the various Dallas metro areas including Bluffview, Nitin is uniquely positioned to assess the value of luxury homes in this region. He'll provide reliable market analysis to help clients determine their home's worth in the current real estate market.
Q:I'm thinking of putting my Bluffview home on the market and searching for a new home – is it a good time to buy or sell?
With access to numerous industry resources, Nitin has a keen perspective on area trends – housing, employment, business, population growth, retail landscape in Bluffview, Texas – and will share his assessment of the market with clients as they consider their next real estate move.
Q:With so many homes on the market, what can Nitin do to make my listing stand out among numerous Bluffview homes for sale?
Nitin has engineered a dominant marketing presence, appearing in internet search, social media, print and direct mail channels to promote the properties. Nitin has a proven marketing strategy to market homes. He has technical expertise to leverage the latest digital marketing technologies to market your home for sale in Bluffview. He invests considerable time and money to ensure prospective buyers notice your listing and see it in person. Nitin also will help you stage your home to take it from average to inviting, encouraging offers from qualified shoppers. Nitin understands that impeccable staging and aggressive marketing contribute to quicker, larger offers and satisfied clients on both sides of the sale.
Q:I am relocating to Bluffview and I want to buy a new construction home. Which new home builders are building homes in Bluffview?​
Bluffview is a popular destination for families moving to DFW. Most of the new construction in Bluffview is built by custom home builders. Contact us for more information.
Q:Are there any tax-related advantages to relocating to Texas? Can Nitin help me find a great home in an area with low property tax rates?
For tax-conscious buyers, there are numerous advantages to relocating to Texas. Texas has no state income tax. Buyers can rely on Nitin's savvy real estate expertise to answer their questions and direct them to a city with a tax structure that suits their lifestyle.
​
Q:I am relocating to Bluffview and I found my dream home in Bluffview, but it's not for sale. Can Nitin help me make an offer anyway?
Occasionally, a buyer will find and fall in love with the home of their dreams – when it's not for sale. As a skilled and sensitive negotiator, Nitin is prepared to approach owners of off-market properties to help you make an irresistible offer.
Q:Do you have an information packet on Bluffview relocation that you can send me?
In today's busy world, we want information now, and we especially understand that when you are making a move. We are Bluffview relocation specialists. We have a great online Bluffview Relocation Guide that provides information and resources about your target destination in Dallas metro area including Bluffview. Simply complete the form to request a guide and we will send you a link to access it. If you would prefer to receive a hard copy of the guide, please let us know. You can also get started by completing our Bluffview Relocation Survey
Q:My Bluffview house hunting trip is one week. Will that be enough time? How many days should I spend actually looking for a house in Bluffview?
Yes, one week should be fine to find a home in Bluffview. It usually takes about a day to negotiate a deal. The inspection could be a couple of days to set up. Then you should add a day or so just in case something unexpected happens. If you do some research ahead of time, a couple of good days should be enough.
Q:If I happen to see a house in Bluffview that interests me on the Internet, would you be able to get me more information via email?
Definitely. I can email you listings with full details. I can even send you additional information above and beyond what is available to you on the Internet because of my access to great tools. There is a reason that we are Bluffview relocation specialists!
Q:Can you recommend a good moving company in my area for my move to Bluffview?
As part of our services for individuals relocating to Bluffview, we will be happy to recommend national companies who offer a full range of services. We're happy to provide a list of options for your consideration.
Q:Can you help me arrange for household services in Bluffview?
We can help you apply for a mortgage, arrange for insurance, purchase a home warranty, or make home repairs for your Bluffview home. Many of our clients greatly value the convenience of "one-stop shopping" for home-related services.
​
Q:What is the common real estate contract closing time for a home purchase in Bluffview?
It is generally 30 days in Texas but it can be negotiated between buyer and the seller
Q:I am not ready to buy in Bluffview. Can you help me find a rental property in Bluffview?
Yes. Many families relocating to Bluffview want to take time finding the right home when they move to Bluffview, or are unable to buy a home in Bluffview until they sell a home in their previous location. We offer services and advice to help you find rental property. We will help you learn about the area and keep an eye out for properties meeting your criteria
​
​
Q:I work in Human Resources for a company that is relocating employees to Bluffview, Texas. Can you help me with relocating multiple employees?
Absolutely. If you've never managed a group move before, our Bluffview Relocation Services is a great place to start to help your employees relocating to Bluffview. We can help you develop a policy, present information to your employees, provide tours of Bluffview, sell their current homes, purchase new homes or find rental properties in Bluffview and much more. Leverage the services of Bluffview relocation specialists to make your company relocation easier for your employees!
Nitin is the top Realtor and luxury real estate resource in Bluffview, Texas. Call or text his directly at (469) 269-6541 to get answers to your real estate questions and find the perfect Bluffview home.