Lewisville Homes and Real Estate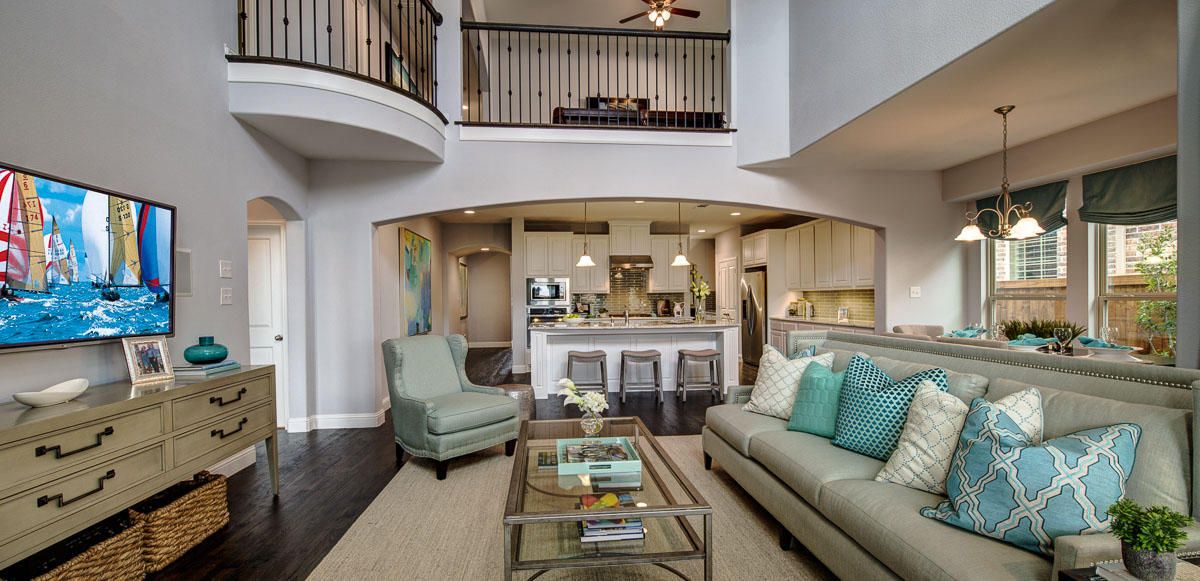 Lewisville is a city in Denton County, Texas, United States. It is a suburb within the Dallas-Fort Worth Metroplex. The 2000 United States Census placed the city's population at 77,737 and the 2010 Census placed it at 95,290, making it one of the fastest-growing city populations in the United States and the 33rd most populous in Texas. It occupies 36.4 square miles (94 km2) of land and includes 6.07 square miles (15.7 km2) of Lewisville Lake.
Conveniently located ten minutes north of DFW Airport along Interstate 35, Lewisville offers family-friendly attractions, inviting hotels, fun-filled outdoor areas, and the historic charm of Old Town Lewisville.
​
Many of the buildings and homes that were built around the time Lewisville incorporated in 1925 are still standing today as official Lewisville landmarks. Old Town Lewisville is the best place to find many of them within walking distance of each other.
​
Known for its glittering lakes, Lewisville offers diverse shopping and dining, fun attractions, and beautiful family-friendly hotels. Access to DFW International Airport is convenient and easy - only 10 minutes away. Lewisville's proximity to Lewisville Lake have made it a recreational hub of the Dallas–Fort Worth metroplex. The city's municipal government, led by a nonpartisan city council, focuses its recreational and cultural investments on facilities such as Toyota of Lewisville Park and the MCL Grand Theater. The area's transportation infrastructure has evolved around the I-35 Corridor along Interstate 35E. The diversity of its population and industry has created a stable economic climate. Lewisville Independent School District provides most of the area's public education programs.
Lewisville ISD & Schools​
​
​
​
​
​
​
​
​
​
​
​
​
​
​
​
​
​
​
​
​
​​
Lewisville Real Estate News
Castle Hills
Castle Hills, a Bright Realty development, is a majestic 2,800-acre master-planned community located in Lewisville, Texas that is easily in the top 3 Largest Master-planned community in the DFW Metroplex. Castle Hills is a Golf Course Community with lakes, parks, shops, retail, pools, community center and hike and bike trails.. Since welcoming its first residents in 1998, Castle Hills has continued to evolve as a community for people to live, work, play and thrive. With a convenient location that is close to freeways and airports, Castle Hills continues to be recognized as one of the premier master-planned community developments in north Dallas, with new homes, shopping, dining, office, apartments and more planned for the future.
​
Castle Hills is 60 percent residential and has single-family houses ranging from about $300,000 to $1.5 million and more. The mixed-use is already a reality in Castle Hills with its Village Shops & Plaza, country club, and 20 neighborhood parks.
​
Located just East of I-35, West of the Dallas North Tollway and South of the 121 Tollway it gives you easy access to all the major DFW Highways. Its location on SH 121 creates easy access to nearby cities Plano, Frisco, Allen, and McKinney to the east and Carrollton, Irving, and Valley Ranch to the west. DFW International Airport is about a 15-minute drive to the west, and many major employers are close as well, including the soon-to-open Toyota North American headquarters (almost 4,000 new hires), Frito-Lay, Pepsi-Co, Computer Associates, McAfee, AT&T, Bank of America, Ericsson, and Fujitsu.
Current new home builders are Darling Homes, American Legend Homes, David Weekley and Huntington Homes.
​
New Home Builders in Castle Hills
Castle Hills has robust new home construction activity. Some of the builders currently offering beautiful new homes in Castle Hills, TX are:
Grand Homes

David Weekly Homes

Landon Homes

Highland Homes

Standard Pacific Homes

Emerald Homes
Lewisville Real Estate & Lewisville Relocation FAQs
​
Each home sale and purchase in Lewisville, Texas is unique: Some homes sell without incident, some buyers search for ages for a property that fits their family. Real estate transactions can be complicated for both first-time buyers and seasoned investors. If you are relocating to Lewisville, Texas, partnering with a top Lewisville Realtor like Nitin is the key to a smooth experience. With sophisticated negotiation skills and professional discretion, Nitin will expertly guide you through the sale or purchase of your luxury home in Lewisville dynamic real estate markets if you are relocating to Lewisville.
​
Q:I'm relocating to Lewisville, Texas. How can Nitin help me with this transition?
Nitin specializes in Lewisville relocation services such as Lewisville neighborhood comparisons, school district information and cost-of-living market analyses. He'll also help clients relocating to Lewisville – from any part of the world – hire an agent to sell their current home. He is an expert on luxury living in the Dallas metro with leads on recreational and entertainment options in various neighborhoods, as well as professional services, including medical and legal providers. You can rely on Nitin to handle your transition and make it as stress-free as possible.
Q: Is there any difference between a Lewisville "relocation specialist" and any other realtor in Lewisville?
The "seasoned professionals" or Lewisville relocation specialists are few and far between. To help you better find someone look for the following, and ask these questions:
1) What is their background? What kind of real estate designations and training do they have?
2) Do they have 5 star reviews on public websites such as Zillow.com and Google.com? What do their clients say about them?

3) What specifics do they know about the Lewisville market? Do they have the ability to run reports on the fly about Lewisville and the Lewisville school district?
4) Do they provide tools like Dallas Neighborhood Finder?

5) Do they understand home construction tools and techniques if you are looking for a new construction home?

6) What continuing education have they completed beyond the required yearly classes?

7) Is their website custom built, specific to Lewisville area, or a cookie cutter version from their broker? Do they provide Lewisville Relocation Resources on their website?
​
8) When are they available? How do they communicate?
If you ask question #'s 5 & 6, you will quickly identify those agents in the top 3% of the business who will be able to help you most effectively
​
​
Q: I'm an international buyer relocating to Lewisville– can Nitin help me find and purchase a new home or investment property in Lewisville?
Nitin is a Lewisville relocation specialist. Nitin assists his clients with the intricacies of an international move or purchase, acting as their single point of contact for all stages of the sale. He'll stay in constant communication with you to understand your unique needs in a luxury home in Lewisville area, provide school and neighborhood profiles, organize necessary bank and government documents, offer move-in support and coordinate with other area professionals as needed to ensure a world-class experience.
Q:I'm considering selling my Lewisville home – can Nitin help me find out what it's worth?
As a real estate professional with extensive experience in the various Dallas metro areas including Lewisville, Nitin is uniquely positioned to assess the value of luxury homes in this region. He'll provide reliable market analysis to help clients determine their home's worth in the current real estate market.
Q:I'm thinking of putting my Lewisville home on the market and searching for a new home – is it a good time to buy or sell?
With access to numerous industry resources, Nitin has a keen perspective on area trends – housing, employment, business, population growth, retail landscape in Lewisville, Texas – and will share his assessment of the market with clients as they consider their next real estate move.
Q:With so many homes on the market, what can Nitin do to make my listing stand out among numerous Lewisville homes for sale?
Nitin has engineered a dominant marketing presence, appearing in internet search, social media, print and direct mail channels to promote the properties. Nitin has a proven marketing strategy to market homes. He has technical expertise to leverage the latest digital marketing technologies to market your home for sale in Lewisville. He invests considerable time and money to ensure prospective buyers notice your listing and see it in person. Nitin also will help you stage your home to take it from average to inviting, encouraging offers from qualified shoppers. Nitin understands that impeccable staging and aggressive marketing contribute to quicker, larger offers and satisfied clients on both sides of the sale.
Q:I'm interested in a waterfront property in Lewisville. Should I worry about flooding problems?
Texas' luxury real estate markets offer exceptional waterfront properties along various lakes like Grapevine Lake & White Rock Lake in the Dallas Fort Worth metro area. Seller disclosure laws in Texas require current owners to disclose known problems with their properties, including past flooding problems, so buyers can purchase with confidence.
Q:Are there any tax-related advantages to relocating to Texas? Can Nitin help me find a great home in an area with low property tax rates?
For tax-conscious buyers, there are numerous advantages to relocating to Texas. Texas has no state income tax. Buyers can rely on Nitin's savvy real estate expertise to answer their questions and direct them to a city with a tax structure that suits their lifestyle.
​
Q:I am relocating to Lewisville and I found my dream home in Lewisville, but it's not for sale. Can Nitin help me make an offer anyway?
Occasionally, a buyer will find and fall in love with the home of their dreams in Lewisville – when it's not for sale. As a skilled and sensitive negotiator, Nitin is prepared to approach owners of off-market properties to help you make an irresistible offer.
Q:Do you have an information packet on Lewisville relocation that you can send me?
In today's busy world, we want information now, and we especially understand that when you are making a move. We are Lewisville relocation specialists. We have a great online Lewisville Relocation Guide that provides information and resources about your target destination in Dallas metro area including Lewisville. Simply complete the form to request a guide and we will send you a link to access it. If you would prefer to receive a hard copy of the guide, please let us know. You can also get started by completing our Lewisville Relocation Survey
Q:My Lewisville house hunting trip is one week. Will that be enough time? How many days should I spend actually looking for a house in Lewisville?
Yes, one week should be fine to find a home in Lewisville. It usually takes about a day to negotiate a deal. The inspection could be a couple of days to set up. Then you should add a day or so just in case something unexpected happens. If you do some research ahead of time, a couple of good days should be enough.
Q:If I happen to see a house in Lewisville that interests me on the Internet, would you be able to get me more information via email?
Definitely. I can email you listings with full details. I can even send you additional information above and beyond what is available to you on the Internet because of my access to great tools. There is a reason that we are Lewisville relocation specialists!
Q:Can you recommend a good moving company in my area for my move to Lewisville?
As part of our services for individuals relocating to Lewisville, we will be happy to recommend national companies who offer a full range of services. We're happy to provide a list of options for your consideration.
Q:Can you help me arrange for household services in Lewisville?
We can help you apply for a mortgage, arrange for insurance, purchase a home warranty, or make home repairs for your Lewisville home. Many of our clients greatly value the convenience of "one-stop shopping" for home-related services.
​
Q:What is the common real estate contract closing time for a home purchase in Lewisville?
It is generally 30 days in Texas but it can be negotiated between buyer and the seller
Q:I am not ready to buy in Lewisville. Can you help me find a rental property in Lewisville?
Yes. Many families relocating to Lewisville want to take time finding the right home when they move to Lewisville, or are unable to buy a home in Lewisville until they sell a home in their previous location. We offer services and advice to help you find rental property. We will help you learn about the area and keep an eye out for properties meeting your criteria
​
​

Q:I work in Human Resources for a company that is relocating employees to Lewisville, Texas. Can you help me with relocating multiple employees?
Absolutely. If you've never managed a group move before, our Lewisville Relocation Services is a great place to start to help your employees relocating to Lewisville. We can help you develop a policy, present information to your employees, provide tours of Lewisville, sell their current homes, purchase new homes or find rental properties in Lewisville and much more. Leverage the services of Lewisville relocation specialists to make your company relocation easier for your employees!
Nitin is the top Realtor and luxury real estate resource in Lewisville, Texas. Call or text his directly at (469) 269-6541 to get answers to your real estate questions and find the perfect Lewisville home.
Houses for Sale Lewisville.
​
Get access to Lewisville real estate listings, including the MLS, Lewisville REALTORS, new homes and foreclosures in Lewisville. Our free real estate services feature all Lewisville and Texas cities and suburbs. Find Lewisville school district information, including elementary, middle and high school test scores, student faculty ratios and other statistics.
We also have information on Lewisville mortgage brokers, Lewisville insurance, Lewisville movers, Lewisville self storage, Lewisville commercial properties, and other realty services for anyone looking to sell a home in Lewisville , buy a home in Lewisville , or rent a home in Lewisville . Get access to Lewisville real estate listings, including the MLS, Lewisville REALTORS, new homes and foreclosures in Lewisville .
Our free real estate services feature all Lewisville and Texas cities and suburbs. Find Lewisville school district information, including elementary, middle and high school test scores, student faculty ratios and other statistics. We also have information on Lewisville mortgage brokers, Lewisville insurance, Lewisville movers, Lewisville self storage, Lewisville commercial properties, and other realty services for anyone looking to sell a home in Lewisville , buy a home in Lewisville , or rent a home in Lewisville .